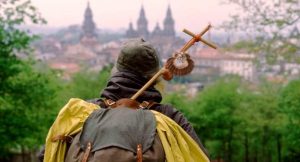 The "Way of Saint James" is the oldest pilgrimage route in Europe and the crowded.
Around 820 the tomb of the Apostle James and his disciples Theodore and Anastasio were located and immediately the «Iocus Santi Iacobi» were created, the sacred place to venerate his relics. It was the germ of the future Cathedral of Santiago and the city of Santiago de Compostela based around the figure of the apostle and pilgrims , from all over the world and in all ages, have addressed her in search of a spiritual and conversion experience.
Quickly the phenomenon of pilgrimages became a true backbone of Europe and James into a great pilgrimage center that had nothing to envy of Rome or Jerusalem itself.
Currently religion and conversion are complement by tourism, heritage, culture, gastronomy, in multiple experiences that make the Camino de Santiago one of the most demanding itineraries among pilgrims and tourists from all over the world.
You can consult different informational websites: